Icy winds sweep through the hills, rays of sunlight play on the snow. Northern Lights dance high above the wilderness.
As spring finally arrives, the receding snow makes way to joyful rivers and creeks. Light never sleeps in the realm of the Midnight Sun – as far as the eye can see, the tundra blooms with natural nutrients. It is the season for new vitality.
The story of Taiga was born out of our love for Lapland and the rugged beauty of its nature. We find boundless inspiration in the landscape of fells and forests, home to the super ingredients that make our products naturally effective. Lapland's arctic winter and the brief but intensive growing season pack trees, berries and shrubs with nutrients and antioxidants, which revive the natural glow of your skin.
We wanted to share the experience of the uniqueness of northern nature with you, so we developed a unisex skin care range perfect for every skin type. We think you'll love the neutral scents and the elegant packaging as much as we do.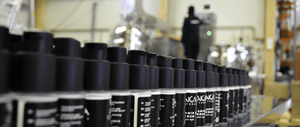 Our products are made in Finland with safe, natural ingredients certified by COSMOS Natural.  The certification guarantees that our products and their ingredients as well as the ethics and sustainability of our production process meet the criteria for natural cosmetics required by the international COSMOS-standard.
Taiga Cosmetics is a trademark of Frescon Oy, a Finnish family-run company established in 2004. Our production facilities are located in Lempäälä in the Pirkanmaa region. Frescon Oy specialises in high-quality cosmetics, medical devices, and well-being products. Sustainability is at the heart of our production process: all packaging is recyclable, and the production facility is powered by solar energy.
Taiga cosmetics is the result of years of product development by a team of experts in cosmetics development, biotechnology, and consumer safety. You can find accessible, research-based information about our products on our website and in our newsletter.
Our values inform each area of our enterprise:
Safety: Consumer safety is a top priority for us. Our production process is designed with safe, skin-friendly products in mind.

High quality: All Taiga employees are committed to our quality management system, which guarantees the consistently high quality of products.

Made in Finland: Our products have been awarded the Key Flag symbol indicating that they have been manufactured in Finland, creating Finnish jobs.

Environment: We value the pristine nature of Finland and aim at minimising the environmental impact of our production process. Our production facility is powered by solar energy, we do not test our products on animals, and all our packaging is fully recyclable.