Taiga Cosmetics
Icy winds sweep through the hills, rays of sunlight play on the snow. Northern Lights dance high above the wilderness.
As spring finally arrives, the receding snow makes way to joyful rivers and creeks. Light never sleeps in the realm of the Midnight Sun – as far as the eye can see, the tundra blooms with natural nutrients. It is the season for new vitality.
All our products are natural, vegan, cruelty-free and ethically produced in Finland. The purity and quality of our skincare line are guaranteed by the internationally acclaimed COSMOS Natural Certification.   
"Amazing product, I'm hooked! I ordered this to my friends too, mayde they'll fall in love with it like I did."
Nina
"The best serum ever! Easily the best serum I've used."
Pirjo
"Effective and refreshing toner! I enjoy the fresh scent of the product."
Soile
"New favorite! It really smooths and revitalizes the skin."
Johanna
Magic power of north
Our Taiga products contain powerful substances from Finnish Lapland's pure nature: lingonberry, blueberry and sea buckthorn seed oils, and extracts of pine, spruce and birch. They are rich in nutrients and antioxidants emphasizing your skin's natural vitality.
Read more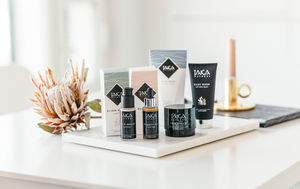 Cleanliness is guaranteed
Our products have the COSMOS Natural certificate issued by the prestigious French Cosmecert. It guarantees that all products meet the highest criteria in terms of their raw materials, manufacturing, packaging, ethics and environmental friendliness.
Read more